Continuing our look at healthy Thanksgiving fare, here are a few recipes geared for a most delicious & nutritious national holiday.
Don't let the lack of added sugar fool you - these diabetic-friendly recipes are great for everyone.!
Pumpkin Soup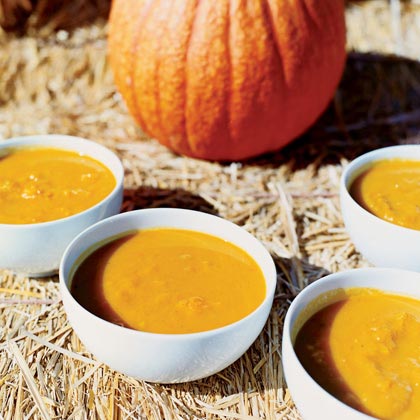 A warm treat to start everyone off while the turkey rests.
Ingredients: 6 cups pumpkin mash (either make your own with a sliced up pumpkin or can be found in cans at the grocery store), ~1 cup cream (light or heavy depending on how thick you want the soup), 1 yellow onion, olive oil, cumin, allspice (nutmeg, cinnamon, and ginger are all easily found separately too). Optional spice: cardamom.
Dice onion and saute in olive oil at bottom of a stew pot until clear. Add pumpkin mash, stirring until well blended with onions throughout. Add cream and spices to liking. Simmer for at least one hour, stirring intermittently. Taste occasionally and season as appropriate.
Special note on spices:

freshly ground or zested spices will carry more flavor than dried spices. That being said, nutmeg is incredibly strong in any form and should added incrementally to taste. Always let simmer an additional five to ten minutes after adding more spices.
Asparagus with Cranberries
Combine two awesome side-dishes without the sugar.
Ingredients: 1 bunch asparagus, 1/2 cup of cranberries, salt, pepper, olive oil
Bring a medium pot of water to boil. Cut the asparagus into 1 inch segments, and boil with cranberries for 3 to 5 minutes (add the flower end with only 2 minutes left to go to avoid mushiness).
Drain and toss with a little bit of olive oil and salt and pepper to taste.
Mashed Sweet Potatoes
Great as a holiday dish or a way to quickly adapt leftovers.
Ingredients: 4 sweet potatoes, 1 apple or pear, allspice (or nutmeg, cinnamon & ginger), salt and pepper to taste. Optional: butter, for consistency.
Wrap sweet potatoes in aluminum foil and bake until soft throughout. Remove skin and discard.
In the same oven, bake a peeled apple or pear until soft.
Dice up softened fruit and add to the sweet potatoes. Mash in your preferred method (a fork should do it if everything is cooked through enough), and add spices to taste. Optionally, add butter to make the blending process a little smoother.
Come by tomorrow for a fun fact about sweet potatoes versus yams!
More Thanksgiving posts from New Voices
Thanksgiving Recipes
A Second Helping of Thanksgiving
Vegan Thanksgiving