A good poem can perfectly capture how the author and the reader are feeling, and then it just speaks to you. Funny or sad, short or epic, poems span the ages.
Haiku
is a popular Japanese style of poetry that consists of 17
moras
, separated into three phrases of 5, 7, and 5 moras.
Though not technically correct, English-language haiku are typically written with 17 syllables: 3 stanzas of 5,7, and 5 syllables respectively. Haiku has become a fun pastime for amateur poets because of its short length and independence from difficult rules, like rhyming or rhythm--a haiku can be easily formulated in a matter of minutes.
I am challenging you to take a moment to create a haiku. Tell us what you think is important in verse. Please share it with the community via the comments section. Here are a few to inspire you:
From Kate:

Hope for the future
Seen through microscopes and slides
What will research find?


Research is vital
To live a healthier life
Tell Congress today
From Heather:
Communicate it
New Voices can show you how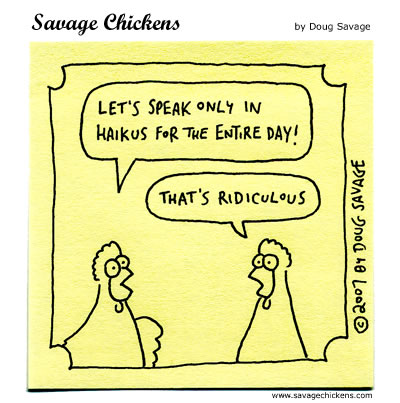 Comic credit: Doug Savage